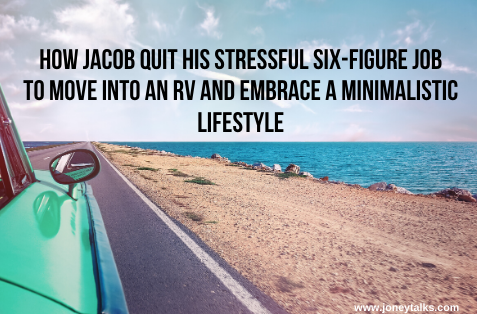 In today's episode, we will speak to my friend Jacob from I Heart Budgets.
We met at Fincon 19 and he told me he was currently on a "mini-retirement" travelling in an RV (a large motorhome/camper van) with his wife and three kids through the US. He started this crazy plan in August of 2018 and while the plan was to travel 1 year they have extended their plans.
Living in such a limited space brings challenges but as well incredible experiences and opportunities. We will discuss all of these with Jacob and we will also discuss what triggered him and his family to do this. Oddly enough, a couple of months before deciding to go live in an RV, the Wades were looking into buying a new larger home! The discussion with also be seasoned with a pinch of minimalism here and there. 
Since Jacob loves budgets (--> nerd), we also discuss why setting up a budget or better "a plan" for your finances is the essence of starting to live a better life.
This episode is for you if you are keen on hearing about why someone with a well-paid job is "suddenly" making a drastic lifestyle change by moving to a more nomadic and minimalistic lifestyle. And more importantly how that can be achieved through budgeting and planning. This episode is also for you if you are new to budgeting and still wonder why it can be a fantastic starting point to achieve your goals.
Enjoy! 
Show notes: https://joneytalks.com/2019/12/06/iheartbudgets/